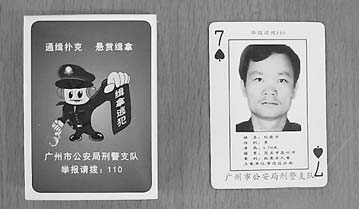 A suspected murderer who had been on the run for eight years is in police custody in the city ofYiwu in Zhejiang province.
Liu Rongwan, born in 1965, turned himself in on April 12.
Liu said he gave himself up because he could not endure life on the run.
"I lived in fear all these years," Liu told police.
Liu said he traveled throughout Guangdong, Fujian, Hunan, and Zhejiang provinces and theGuangxi Zhuang autonomous region using a fake identity card.
A native of Gaozhou city in the western part of Guangdong province, Liu was the "seven ofspades" in the deck of cards issued by Guangzhou police, which contains detailed informationon 54 wanted criminals.
More than 70 percent of the fugitives on the cards are suspected of murder. The cards havebeen widely distributed in hopes of capturing the suspects.
Liu was the first of the 54 to turn himself in.
Police in Guangzhou's Luogang district set up a task force to investigate the case after theyfound a woman's body in a farm in Tianxin village on March 15, 2004.
The victim, surnamed Xu, worked in Liu's booth at the Dongping agricultural bazaar inGuangzhou's Baiyun district. Liu disappeared shortly after her body was found.
Liu told police he and Xu became involved, but later had a falling out. After a quarrel in Liu'svan, Liu killed Xu.
While searching for Liu, police also asked Liu's family to persuade him to surrender, accordingto Guangzhou police.
Police urge other fugitives to follow Liu's example and turn themselves in.
Zheng Caixiong