The Guangdong government is planning to relax restrictions on the registration of online stores.
A proposal by the provincial administrative agency for industry and commerce will allow online store owners to use their residences as business premises when they apply for a license.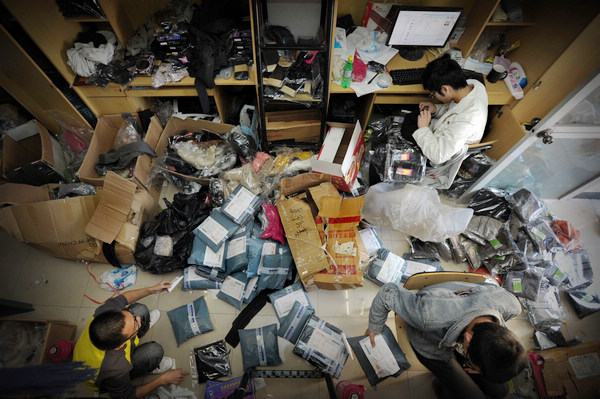 Students at Yiwu Industrial and Commercial College in Zhejiang province turn their dormitory into a warehouse to stockpile products they sell online. A growing number of students in China are setting up online businesses in the fast-growing sector. [Provided to China Daily]
It will not be compulsory for Guangdong residents to register their online stores if they want to run the businesses as individuals. Instead, they just need to go through the online trading platform's real-name registration procedures.
However, only a limited number of online store owners seem willing to go to the trouble to gather certificates and fill in application forms.
"I wouldn't have opened an online store if I had to handle the complicated procedures. I make a profit of just 1,000 yuan ($158) to 2,000 yuan per month. It's not worth the headache," said Zou Xuan. The 25-year-old engineer working in Guangzhou runs an online store to sell shoes and clothes in his spare time.
He just needed to type in his name and ID number for the online trading platform to be verified by the National Citizen Identity Information Center before he put his goods on sale.
"Besides, I will have to hand in financial reports to the government after getting my online store registered. I may face taxation then," Zou admitted.
None of the online store owners Zou knows have registered their online stores or filed tax returns.
"Most online store owners are running small businesses. It will be an unprofitable business if we have to pay tax."
Zhang Yanlai, a lawyer from Zhejiang Brighteous Law Firm and a member of Policy and Law Committee of China Electronic Commerce Association, admitted that it is difficult for the government to tax an online store that hasn't registered with the administrative agency of industry and commerce.
"People take up e-commerce mostly because of convenience and low cost and the majority of them still run on a shoestring. Therefore, the government is cautious about making registration compulsory and issuing specific taxation rules concerning online stores," said Zhang.
"But the government has been discussing these issues to offer e-commerce and orderly market for its sustainable development."
By relaxing registration for online stores, the Guangdong government is also encouraging people to get their stores registered so that the government can better regulate the ever-expanding e-commerce market.
According to the 2011 annual report by Alipay, the most popular online payment platform in China, 14.2 percent of the money spent nationwide was spent by Guangdong users, a share bigger than any other province.
Yet shady online shopping was listed by the Guangdong Consumers' Committee as one of the 10 biggest headaches for consumers in 2011.
"It's easier for administrative agencies to keep track of an online store's integrity by carrying out yearly checks on registered stores than relying on reports from consumers to detect problems of those that are unregistered," said Hu Yanni, an officer from the publicity section of the Guangdong Administration for Industry and Commerce.
"But getting registered is also good for online store owners. They can publish the registration number for their business charters on the Web page of their online stores. In consumers' eyes, a registered store is more reliable than an unregistered one," Hu added.
Feng Jiazhi, a 25-year-old ex-serviceman, opened an online grocery store in Guangzhou, Guangdong province, after retiring from military service this year.
He used to be confident about the market potential for his made-in-Taiwan goods, but he had to close the online store after one month. He didn't manage to sell a single item and was running out of money.
"What I needed most was the funds to keep my business running. So it is more helpful to offer small online businesses lower interest loans," said Feng.
"I also needed professional training about online marketing. I would appreciate it if the government could offer newcomers relevant courses free of charge."
Commerce Minister Chen Deming revealed on Wednesday that e-commerce in China last year accounted for 13 percent of China's GDP and amounted to almost 6 trillion yuan ($950 billion), with 800 billion yuan for online retail.
Chen is not only optimistic about the prospects of e-commerce in China but also expects the boom to bring people, especially young people, more job opportunities.
"Low-cost e-commerce is a good option for college grads to start their own businesses," Chen added.
via Online traders to get better deal|Economy|chinadaily.com.cn.